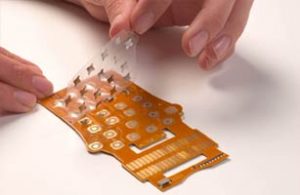 Custom Peel-N-Place™ array sheets are pre-loaded polyester dome carriers backed with pressure-sensitive adhesive. The standard carrier is polyester, but this can be altered to fit your needs. Our array sheet design lends itself well to low and medium volume applications, where cost savings is critical during the board assembly process.
Note: Standard sheet format sizes available are: 5.3″ x 4.5″, 7″ x 8″. For information about custom sizes, please contact Snaptron.
Placement of the Peel-N-Place™ arrays is quick and easy. Simply peel off the release liner, align the array and apply it to your circuit board, flex circuit, or membrane. Snaptron also offers CUSTOM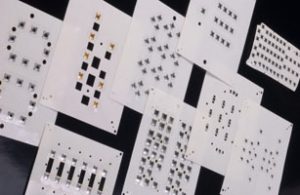 FIXTURES to assist you in the placement process. Two 4-leg domes can also be STACKED in a single position to double actuation force.
By placing all of the domes simultaneously, production time is greatly reduced. Your quality also benefits from the use of our custom arrays which eliminate "double domes" and dome placement errors.
Our Custom Peel-N-Place™ dome arrays are manufactured entirely in Windsor, Colorado, to our exacting specifications to ensure that you always receive the highest quality product with consistent characteristics every time your order.