Snaptron offers custom Peel-N-Place™ metal dome switch arrays which are pre-loaded polyester dome carriers backed with pressure-sensitive adhesive. We assemble dome arrays with the dome style and quantity of your choice, cut to your specific size and shape. In addition, we can place different sizes, shapes, and forces of metal domes on the same array.
We can accommodate a range of unique requests, including cutouts for other components on the board. Or, if your application requires high actuation forces, we manufacture stacked metal dome arrays. In this configuration, we place two domes on top of each other per position.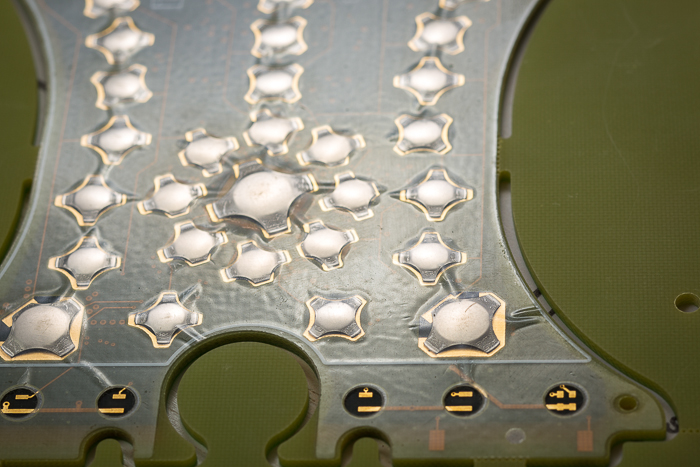 The standard carrier material is polyester unless you require another material. Placement of the array is quick and easy. Simply peel off the backing, align the array, and apply it to your circuit board or membrane. Since you place all domes simultaneously, you can significantly reduce production time.
Snaptron's custom Peel-N-Place™ metal dome arrays are manufactured entirely in Windsor, Colorado, to our precise specifications to ensure that you receive the highest quality product with consistent characteristics every time you order.
Note: Typical tape material thicknesses used are 0.002″, 0.003″, and 0.004″.
Placing Custom Dome Arrays
Snaptron offers custom placement fixtures for easier, more accurate placement of metal dome arrays. Custom Peel-N-Place fixtures are more affordable and precise than visual alignment, making placing arrays a snap. To design a Custom Peel-N-Place™ array, here's what we need from you:
A drawing/print of your part, including the overall size, dome part numbers, locations of domes, and cutouts.
Estimated annual usage of the part.
Request a Custom Tactile Dome Array Today
General Information About Custom Dome Arrays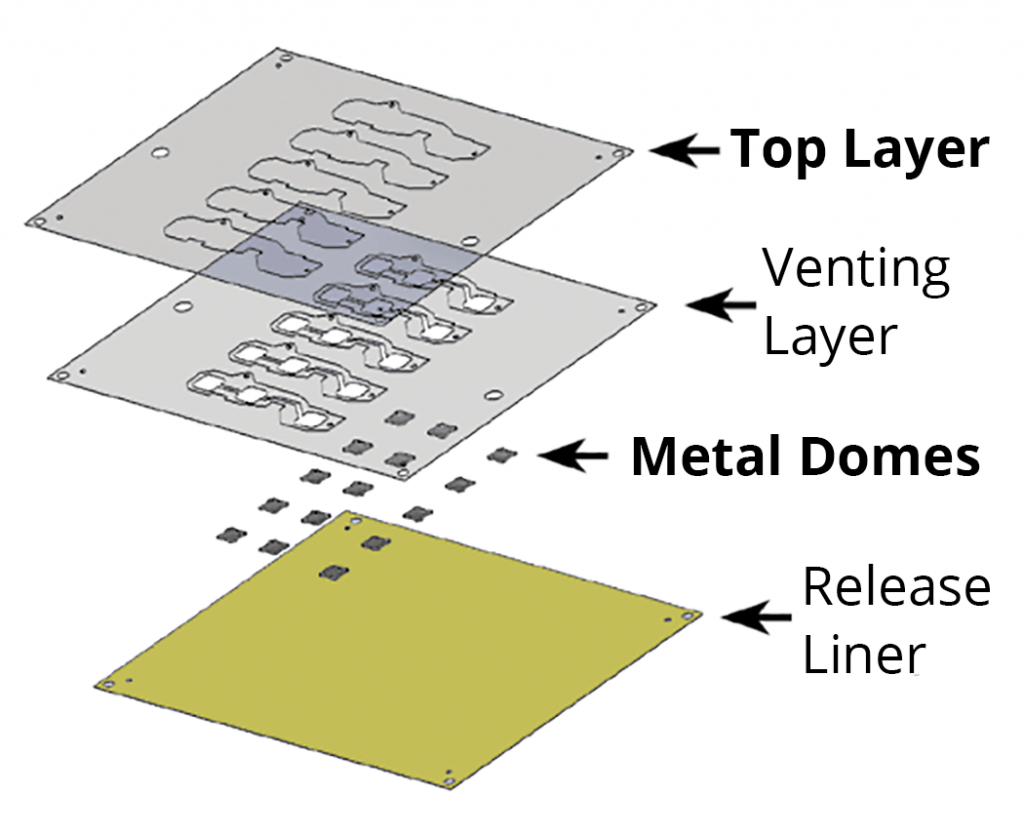 | Name | Adhesive Layer | Adhesive Layer Thickness | Structural Layer Type | Structural Layer Thickness | Adhesive Service Temperature Range | Total Thickness |
| --- | --- | --- | --- | --- | --- | --- |
| 3M 7993MP | Acrylic | 0.002" (0.05mm) | Clear PET | 0.001" (0.03mm) | -40 to 300 Deg F (-40 to 149 Deg C) | 0.003″ (0.08mm) |
| 3M 7992MP | Acrylic | 0.002" (0.05mm) | Clear PET | 0.002" (0.05mm) | -40 to 300 Deg F (-40 to 149 Deg C) | 0.004″ (0.10mm) |
| Flexcon FLX059420 | Acrylic | 0.002" (0.05mm) | Clear PET | 0.001" (0.03mm) | -40 to 302 Deg F (-40 to 150 Deg C) | 0.003″ (0.08mm) |
| Flexcon FLX000314 | Acrylic | 0.002" (0.05mm) | Clear PET | 0.002" (0.05mm) | -40 to 302 Deg F (-40 to 150 Deg C) | 0.004″ (0.10mm) |
| Flexcon FLX000376 | Acrylic | 0.002" (0.05mm) | White PET | 0.002" (0.05mm) | -40 to 302 Deg F (-40 to 150 Deg C) | 0.004″ (0.10mm) |
| Flexcon FLX002500 | Acrylic | 0.001" (0.03mm) | Clear PET | 0.001" (0.03mm) | -40 to 257 Deg F (-40 to 125 Deg C) | 0.002″ (0.06mm) |
| Flexcon FLX002740 | Acrylic | 0.001" (0.03mm) | Clear PET | 0.002" (0.05mm) | -40 to 257 Deg F (-40 to 125 Deg C) | 0.003″ (0.08mm) |
We can accept a number of different file types, but we can also provide budgetary pricing from a hand sketch of the part. Following is a list of file types we support:
AutoCAD (all versions)
DXF (all versions)
Solidworks (all versions)
Inventor (.ipt)
Solid Edge (.par)
IGES (all versions)
STEP (all versions)
ACIS (.sat)
Parasolid (all versions)
Catia Graphics (.cgr)
STL (.stl)
VDASF (.vda)
Acrobat (.pdf)
Note: Shielding options for PNP dome arrays are available to help eliminate EMI/RFI interference, including:
– An additional film is applied to the top layer of the array sheet
– Domes are applied directly to the shield using adhesive
– The shield can be printed directly onto the array using conductive ink