Snaptron provides several different packaging methods for metal dome switches. Choosing a packaging method that complements the unique requirements of your application and assembly is just as important as the product itself. Your options for packaging metal domes include loose in a jar, on polyester-adhesive sheets, in cartridges, or in tape and reels. Each method offers unique benefits for the coveted results of your application.
Bulk Packaging
The most commonly requested method is bulk packaging. Whether you need to order the minimum amount for a test build or thousands at a time. Bulk packaging usually entails a shorter lead time and can sometimes be shipped on the same day.
If you order bulk packaging, the metal domes come in plastic jars. The jars are shrink-wrapped and completely sealed after packaging to protect and prevent contamination during the shipping process.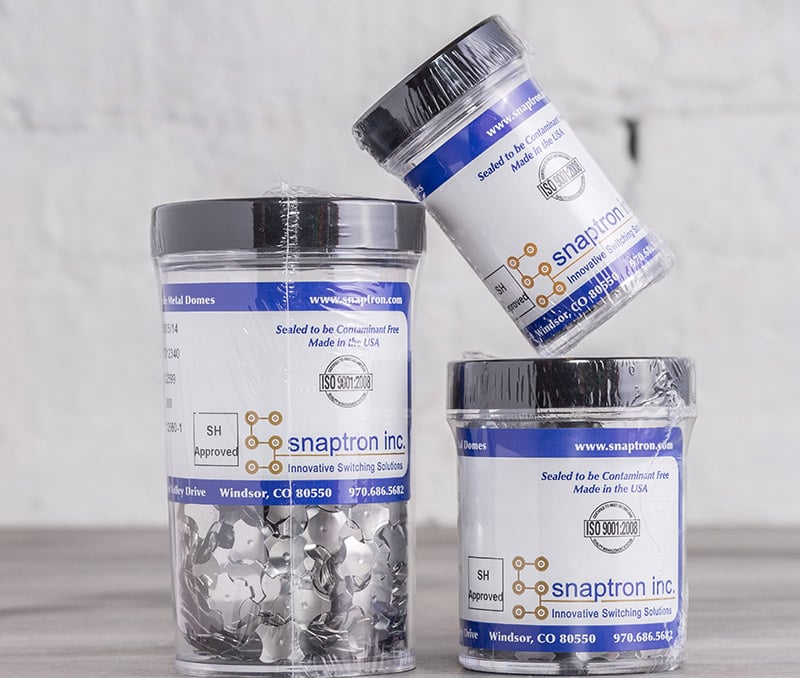 The number of domes packaged per jar depends on the dome diameter size and the quantity shipped. If you require a specific amount of domes per jar, we can accommodate this request for a small additional fee per order. Another great option to keep in mind is anti-static jars, which help reduce domes from sticking to the jar. Bulk packaging domes are typically used with a vacuum pen to place domes on your substrate.
Dome Arrays
Standard Peel-N-Place™
Customers find that our standard Peel-N-Place packaging method is easy to place. This option includes sheets built to order with individual domes attached to square pieces of pressure-sensitive adhesive tape. Each metal dome aligns in the center of these individually, pre-cut adhesive squares for a seamless adhesion to your circuit board. Most commonly, our standard Peel-N-Place packaging has 20 or 30 individually cut square pieces per sheet determined by the size of the dome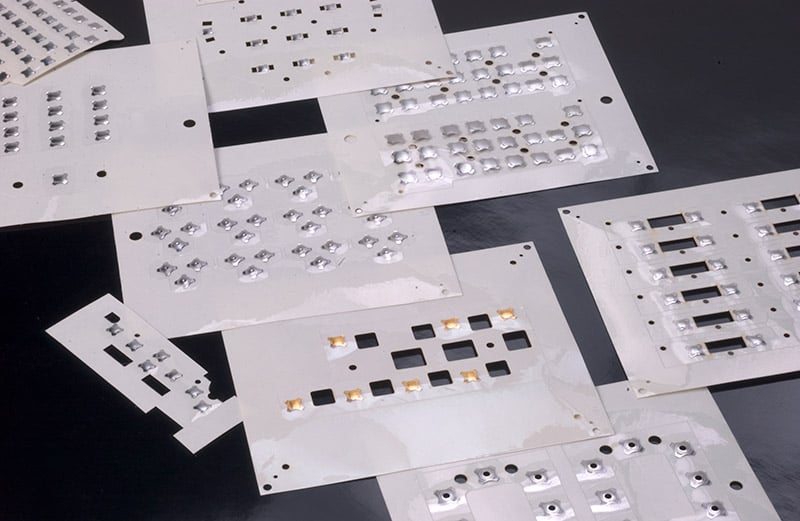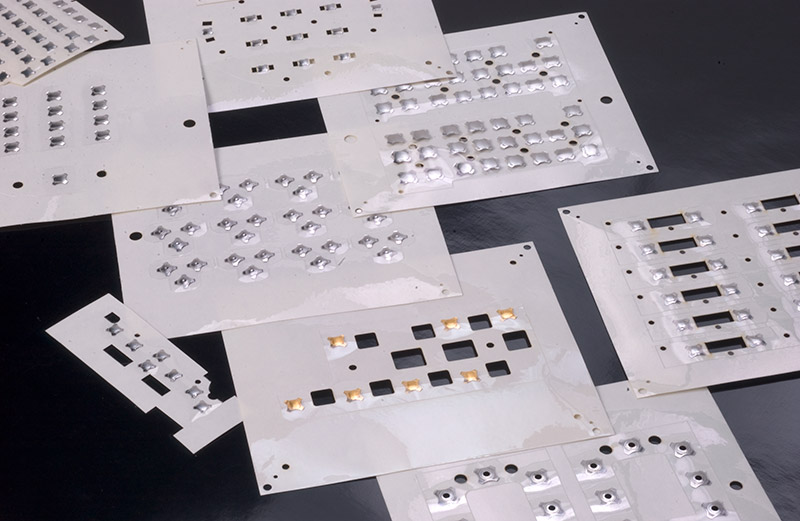 You pick each dome with adhesive from the release liner backing and apply it to your membrane or circuit board. The adhesive secures the metal dome to your circuit board. Most four-legged and round metal domes come in standard Peel-N-Place options.
Custom Peel-N-Place™
Similar to standard Peel-N-Place options, custom Peel-N-Place arrays are built and assembled with the dome style and quantity of your choice. You can easily customize and cut dome arrays to the size and shape you specify. You can place different sizes, series, and forces of metal domes on the same array. Making the design possibilities endless. Even sheet sizes are customizable. Custom array sheet designs work well for low and medium-volume application builds and significantly decrease production costs. Simultaneously, you can accurately place all domes on the circuit board, thus greatly reducing the circuit board assembly process. Using our custom arrays also reduces the chances of "double domes" and dome placement errors.
We also offer custom application fixtures to assist in the placement process of your custom Peel-N-Place arrays. Using an application fixture, an assembler peels off the array backer layer and places the adhesive side up on the fixture. Next, they take the board and align it with the edge guides, followed by pressing the board down onto the array to secure placement. Using manual placement with an application fixture is faster, more accurate, and more cost-effective than visual alignment
Cartridges
Cartridge packaging works with Snaptron's placement equipment, whether you're placing low or high volumes of domes. The Dart Dome Placement Pen and the SureShot automated dome placement machine are designed to use Snaptron domes packaged in cartridges. The placement machines help fast-track your placement process and eliminate double-doming. Double-doming is common with traditional placement methods such as manual and vacuum pens. All cartridges are pre-loaded by Snaptron in-house and can be replaced swiftly and easily within each piece of equipment. Depending on the size of the dome, each cartridge comes in quantities of 1,000 to 1,500 domes. Cartridges are compatible with most four-legged metal domes, including F-Series, U-Series, BL-Series, and GX-Series domes.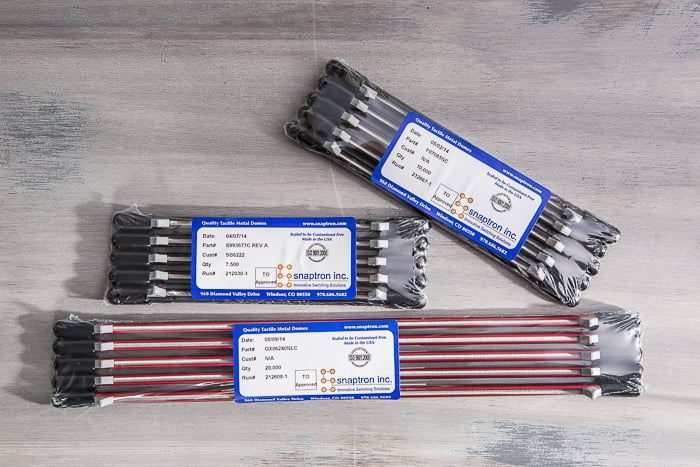 Also, Snaptron offers a dome cartridge recycling program as a small way to reduce material usage. If you order domes in cartridges, Snaptron will include prepaid return labels in your outgoing shipment. Return labels are for returning your empty cartridges to us.
Tape and Reel
Depending on your setup, using tape and packaging is the most cost-effective method for mounting metal domes using automatic placement or SMT equipment. In addition, you should use tape and reels for high-volume production.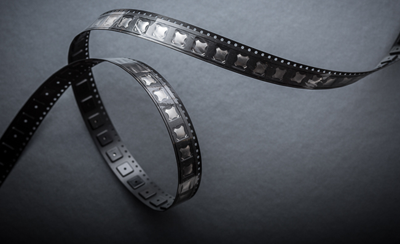 This packaging consists of domes placed in pockets and secured using embossed tape and packaged on reels for convenient handling and transport using traditional SMT automated placement equipment. You can solder some dome switches, like SMD domes, directly to the circuit. Therefore, most standard and custom domes can utilize the tape and reel packaging option.
Selecting the proper packaging method varies based on volume, budget, and machinery. As the industry leader in snap domes, we can help you find the product and packaging that are the right fit for your application. No matter your choice, we ensure you always receive the highest quality product with consistent characteristics every time you order.