As a leading provider of innovative technologies in the field of switch components, Snaptron offers a comprehensive range of tactile dome switches designed to meet the unique requirements of circuit board applications. To successfully design dome switches for your applications, you must understand the intricacies of plating, venting, and actuator solutions for metal dome switches. These are all essential for ensuring reliable electrical connections and efficient functionality in your electronic devices. Whether you are an engineer, designer, or manufacturer, we can guide you through your next project's unique plating, venting, and actuator requirements.
Plating
A variety of plating options are available for tactile dome switches depending on your specific application. Plating may vary depending on your requirements, including life rating, contact resistance, and more. Proper plating is essential to prevent deterioration of the circuit pad over time.
As a general guideline, Snaptron recommends the following plating options:
Nickel
Electro-Deposited Nickel, Bright Hard
<1,000,000 cycle life: 0.00005" – 0.0002" thick (50-200 micro inches or 1.25 – 5.0 microns)
>1,000,000 cycles life: 0.0002" – 0.0005" thick (200-500 micro inches or 5.0 – 12.5 microns)
Gold
Electro-Deposited Gold, Hard (Ref – MIL-G-45204C, Type II, Grade C)
<1,000,000 cycles life: 0.000015" – 0.00003" thick (15 – 30 micro inches or 0.38 – 0.76 microns)
>1,000,000 cycles life: 0.00003" – 0.00005" thick (30 – 50 micro inches or 0.76 – 1.27 microns)
Electroless Nickel/Immersion Gold (ENIG) (Ref – IPC-4552)
For lower life-cycle applications (contact Snaptron for more information)
Note: Recommendations for plating are based on maintaining a stable electrical contact closure.
Venting
In circuit design, the movement of air is called "venting" and is important so that the dome switch functions properly. Lack of venting can cause adverse effects on the feel and function of the switch. While venting is not absolutely necessary for every application, it is desirable in almost all applications.
When the dome is depressed, the air is trapped underneath it. To avoid compressing the air under the dome when actuated, it is recommended that a vent channel be present. The venting of the dome can be achieved in a number of different ways. Some examples include:
The vent channel can go from dome to dome via a spacer layer.
Dome arrays can be top vented through the polyester material.
The vent channel can go through the board. Not properly venting the dome will result in a significant loss of tactile response.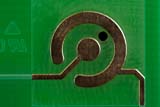 Actuators and Plungers
Snaptron recommends a flat-bottom actuator where applicable. The actuator or plunger should be no more than 25% of the dome diameter. Actuators or plungers should always be placed at the center of the dome. More technical information on actuators can be found in this blog post.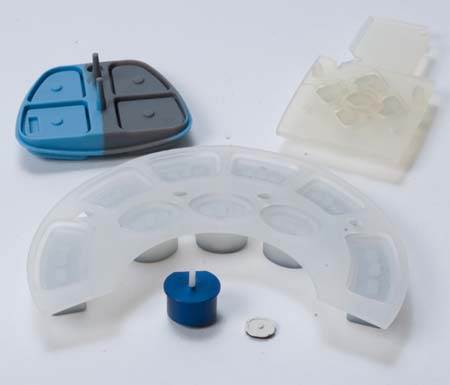 Contact Snaptron for more information about venting, plating, or actuator options for tactile dome switches.