Speed Up Metal Dome Placement with the Dart
The Dart™ Dome Placement Pen is a handheld device for the manual placement of metal domes. Its patented design enables the user to point at the target, click the button, and place a metal dome – then move directly to the next target without having to reload or pick domes individually.
The Dart dispenses a single dome every time, which eliminates quality errors associated with "double doming". The result is a streamlined process of continuous dome placement, increased labor efficiency, and fast, accurate dome placement. The Dart can be used to position metal domes on various surfaces such as printed circuit boards, flex circuits, and membranes. It also allows you to dispense multiple domes on a single location if "stacking" is required.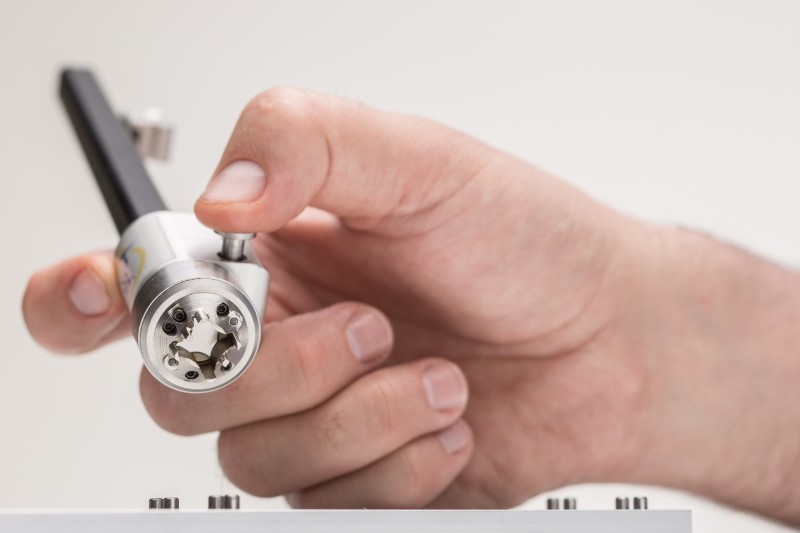 Features:
Portable
Compact
Lightweight
Semi-automatic
Mechanically operated (requires no utilities)
The Dart comes complete with a pen head, cartridge plunger, docking station, and user's manual. Pre-loaded cartridges are sold separately.
Benefits Include:
Increased labor efficiency
No double doming
Places domes feet-down or feet-up
Fast, reliable, precise production
How it Works
The Dart uses a cartridge pre-loaded with domes that attaches to the DartTM pen head, which is spring-loaded to ensure proper dispensing. To operate, the user simply points the head of the unit over the target area and presses the button to place the dome in the desired position.
Note: Model numbers ending in U or D indicate whether the Dart can dispense domes feet up or feet down. Custom options are available, model numbers will vary. Please check the cartridge label for dome orientation.
DIMENSIONS
Overall: 8.78" x .88" (223mm x 22.4mm)
Pen Head: 2.38" x .88" (60.5mm x 22.4mm)
CARTRIDGE
14mm: 7.5″ x .558″ (190.5mm x 14.2mm)
12mm: 7.5" x .466″ (190.5mm x 11.8mm)
10mm: 7.5" x .413″ (190.5mm x 10.5mm)
8.5mm: 7.5" x .350″ (190.5mm x 8.9mm)
7mm: 7.5″ x .318″ (190.5mm x 8.1mm)
6mm: 7.5″ x .262″ (190.5mm x 6.7mm)
WEIGHT
Empty: 3.2oz. (91g)
Full: 6.4oz. (181g)
DOME COUNT
"Per Cartridge:
14mm: 1,000 domes
12mm: 1,250 domes
10mm: 1,200 domes
8.5mm: 1,500 domes
7mm: 1,500 domes
6mm: 1,500 domes
* Custom quantities available"
DISPENSING RATE
"Per Operator: 2,000 domes /hr. est."
SPACER POCKET SIZES
12mm: .42" Sq. (10.67mm Sq.)
10mm: .36″ Sq. (9.14mm Sq.)
8.5mm: .30″ Sq. (7.62mm Sq.)
* Compatible with F-Series, U-Series, and BL-Series domes
Snaptron 4-leg domes can be packaged in cartridges for use with the SureShot dome placement machine and the Dart dome placement pen. Cartridges are easily loaded directly into the SureShot Arrow placement head or the Dart pen head for fast and accurate placement.
Depending on the size of the dome, cartridges are filled with 1,000 to 1,500 domes per cartridge. Custom quantities per cartridge can also be requested.
| | |
| --- | --- |
| 6mm domes in Cartridges | 1,500 domes per cartridge |
| 7mm domes in Cartridges | 1,500 domes per cartridge |
| 8.5mm domes in Cartridges | 1,500 domes per cartridge |
| 10mm domes in Cartridges | 1,250 domes per cartridge |
| 12mm domes in Cartridges | 1,250 domes per cartridge |
| 14mm domes in Cartridges | 1,000 domes per cartridge |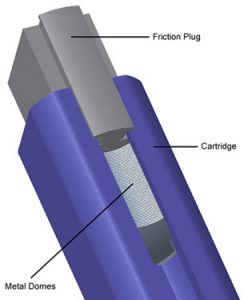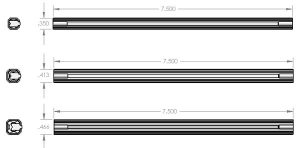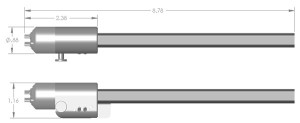 The following video contains real time footage of the Dart dome placement pen placing tactile metal domes into spacer pockets.
Snaptron Cartridge Recycling Program
For those customers that utilize the Dart and SureShot placement technologies, Snaptron invites you to join us in our dome cartridge recycling program. This program is a result of customer inquiries and Snaptron's ongoing commitment to the efficient use of materials and supplies. As part of our commitment, Snaptron is offering free shipping for the empty cartridges. To be included in the recycling program (receive return shipping labels with your next order), contact your Snaptron sales representative at 970-686-5682.