Dart Metal Dome Placement Pen Leasing Program
The Dart Dome Placement Pen is a handheld device for the manual placement of metal domes. Its patented design enables the user to place domes at the target continuously. The Dart can place domes on printed circuit boards, flex circuits, and membranes.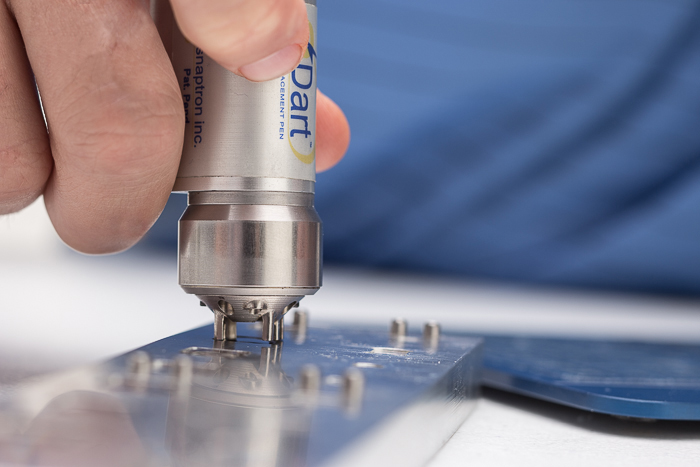 How It Works
The Dart is ideal for operators who need to adhere metal dome switches to a circuit board quickly. The Dart uses a cartridge pre-loaded with domes that attach to a spring-loaded head to ensure proper dispensing. To operate, the user points the head over the target area and presses the button to place a dome in the desired position.
Pricing
| Term | Amount Per Month |
| --- | --- |
| 3-Year | $125 |
| 2-Year | $175 |
| 1-Year | $250 |
| Month-to-Month | $375 |
---
Basic Terms
Pricing for the Snaptron Dart Lease Program is based on leasing one Dart. If you wish to lease multiple units, please contact us directly for pricing.
The Dart is available for dome sizes 8.5 mm up to 14mm for F, U, and BL style domes and comes complete with a pen head, cartridge plunger, docking station, and user's manual. Pre-loaded cartridges are sold separately.
The purchase option is based on the current retail price.
Lease terms: month-to-month, 1-year (12 month), 2-year (24 month)and 3-year (36 month) options are available. At the end of the contract you have three options: return the equipment, re-sign for another lease term, or purchase the equipment.
Snaptron will provide a reasonable amount of support and service of the Dart for maintenance or repair purposes only. It is the Lessee's obligation to keep the equipment in good repair, appearance, and condition and to send the unit back for scheduled maintenance, as pre-determined in the final contract.
Placing domes in one direction only, either feet-up or feet-down dispenses domes more accurately. Dome placement efficiency is dependent on the operator.
Additional terms and conditions apply and will be outlined in the lease agreement.