WINDSOR, CO – November 14, 2023 – Snaptron, a leading manufacturer of tactile switches, is thrilled to announce the expansion of their highly acclaimed S-Series metal domes switch line with the introduction of the much-anticipated 8.5mm, 12mm, and 14mm size options. This latest addition demonstrates Snaptron's commitment to expanding this cutting-edge solution that caters to the evolving needs of its customers.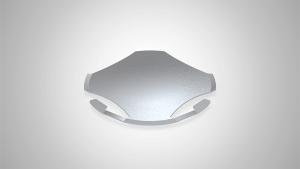 Snaptron's S-Series domes are standard four-leg metal dome switches with two solderable tabs. The tabs allow the dome to be soldered directly to a printed circuit board or flex circuit without impacting performance. Like traditional tactile domes, the solder dome is a normally open momentary contact that provides crisp tactile feedback, letting the user know a button was pressed.
Traditional methods of adhering metal domes to the circuit board require adhesive tape or placement into spacer pockets. This process is typically done semi-automatically or manually and requires an assembler. A major benefit of a solder dome is the ease of assembly and the ability to use existing surface mount technology (SMT) equipment to place these domes.
"We are excited to announce the expansion of our S-Series metal dome switch line with the introduction of the new sizes and forces, and this is just the beginning," said Ashley Steinbach, Director of Strategic Development at Snaptron. "We are actively investing in the expansion of this line to provide our customers with an even greater range of options."
As part of Snaptron's commitment to driving innovation within the tactile switch industry, it's continuously expanding its product offerings. Snaptron empowers engineers, designers, and manufacturers with the tools they need to drive innovation and create remarkable user experiences in their products.
To learn more about Snaptron's S-Series and the newly added sizes, please visit the Snaptron website: https://www.snaptron.com/products/standard-domes/solder-dome/
##
About Snaptron:
Snaptron is a leading provider of tactile dome switch technology, serving a diverse range of industries with its innovative solutions. With a focus on durability, reliability, and performance, Snaptron continues to push the boundaries of what is possible in tactile switch design and manufacturing.
Media Contact:
Nicole Kangos
Marketing Manager
+1 970-686-5682
[email protected]