With the solder dome, you can automate the assembly process by using a pick-n-place or Surface Mount Technology (SMT) machine to adhere domes to the circuit board.
WINDSOR, CO, November 15, 2022 – Today, Snaptron announced the release of its first surface-mount metal dome, the S-Series, also known as a surface-mount device (SMD) dome. Snaptron's S-Series domes are standard four-leg metal dome switches with two solderable tabs. The tabs allow the dome to be soldered directly to a printed circuit board or flex circuit without impacting performance. Like traditional tactile domes, the solder dome is a normally open momentary contact that provides crisp tactile feedback, letting the user know a button was pressed. 
Traditional methods of adhering metal domes to the circuit board require the use of adhesive tape or placement into spacer pockets. This process is typically done semi-automatically or manually and requires an assembler. A major benefit of a solder dome is the ease of assembly and the ability to use existing surface mount technology (SMT) equipment to place these domes. This solution takes the time and cost of manual labor out of the equation.
The solder dome has a higher life cycle rating than most tact switches. For example, tact switches are typically rated to 500,000 cycles, while the solder dome is rated to 1,000,000 cycles–ideal for applications with long life requirements. The solder dome also has a much lower profile and better travel and tactile feel—giving it a distinct advantage over solderable tact switches. As a result, SMD domes are a viable alternative to tact switches.
The solder dome allows customers to easily integrate dome placement in their existing SMT systems or normal automation processes. The solder dome can be attached to the circuit board using the reflow soldering method just like other SMT components. As a result, the solder dome can reduce labor costs, accelerate production, and eliminate steps to final assembly. Because of this, the solder dome is often a go-to solution for high-volume projects.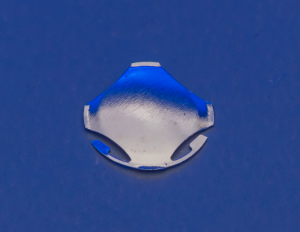 "A dome that can be soldered directly to the circuit board has been a highly sought-after solution by our customers," said Ashley Steinbach, Director of Strategic Development at Snaptron. "We're excited to bring this product to the market and offer our customers a switch that can be soldered in the assembly line, like any other component." Steinbach continues, "Once the S-Series is fully released, we expect to double our volumes and see this product significantly impacting the tactile switch market."
Snaptron's solder dome is now available for purchase in 6.3mm size. Snaptron is scheduled to release numerous other sizes of the solder dome in the coming months. Contact Snaptron to learn about custom options. Visit Snaptron's website to learn more about the S-Series: https://www.snaptron.com/
###
About Snaptron
Snaptron is the leading global manufacturer and distributor of tactile metal dome switches and related placement and test equipment. Founded in 1990, Snaptron is a manufacturer based in Windsor, Colorado, that's committed to providing the highest quality metal domes or dome arrays–100% made in the USA. With more than 100 years of combined experience, our team of experts can customize any dome switch to your exact requirements.
Media Contact
Nicole Kangos
Snaptron
970-686-5682
[email protected]