WINDSOR, CO, March 9, 2021—Today, Snaptron announced a new feature to their DT-Series, also known as dual-touch tactile domes. The DT dome is similar to a standard four-legged metal dome, except one foot is shorter. The new feature, called "Continuous Dual-Touch," maintains two separate electrical contacts through two actuations in a single dome switch.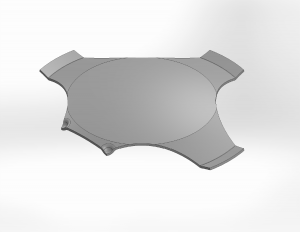 The DT dome can detect two different force levels or actuation positions. The first position provides no tactile sensation but makes electrical contact. While the second position makes a second electrical contact—giving the tactile feedback synonymous with traditional domes switches.
The Continuous Dual-Touch Feature, indicated by DTSD in the part number, takes this functionality a step further. Two dimples located on the short foot ensure that the dome maintains electrical contact through both actuations. DTSD domes are beneficial when the first actuation plays a critical part in the switch's full function; the second actuation is dependent on the first maintaining contact; or if both electrical contacts detect the state of a system.
"We are seeing designs getting smaller and more sophisticated," said Ashley Steinbach, Director of Strategic Development. "This is requiring engineers to do more with limited space, presenting the need for multi-functional components like the DTSD dome."
The DTSD dome also assists with off-center actuations while sustaining a consistent trip force. This design allows the first contact to work consistently, even when pressed at an angle or off-center.
DTSD domes come standard in 6mm, 7mm, 8.5mm, 10mm, and 12mm with forces ranging from 180g to 340g, depending on diameter, and life cycle ratings up to 5,000,000 cycles. All standard DTSD domes are nickel-plated. For custom options, contact Snaptron or visit https://www.snaptron.com/products/standard-domes/dt-series/ for more information.
About Snaptron
Snaptron is the world's leading manufacturer of tactile dome switches, dome arrays, and complimentary equipment for various electronics. Founded in 1990, Snaptron manufactures all its products in Windsor, Colorado. Trusted by engineers worldwide, our team of experts can customize a dome switch solution to your specific requirements. We do not use distributors, so please contact us directly to place an order.
Media Contact